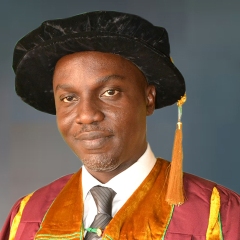 Adetunji Lawrence Kehinde is a Professor of Agricultural Economics with specialization in Production and Resource Economics. His primary affiliation is with the Department of Agricultural Economics and Agribusiness Management, College of Agriculture Ejigbo Campus. He trained as an Agricultural Economist at the University of Ibadan, Nigeria where he obtained B.Sc. (1997), M.Sc. (1999) and Ph.D. (2005) degrees in Agricultural Economics.
Prof. Kehinde started his academic career at Bowen University in 2002 as an Assistant Lecturer rising up to Lecturer I and later moved to Osun State University in 2009 as Senior Lecturer. He was promoted Associate Professor in 2012 and rose to the rank of a Professor in 2015. He teaches Production Economics, Natural Resource Economics, Environmental Economics Statistics and Research methods, Research methodology and Project Monitoring and Evaluation at both the undergraduate and postgraduate levels.
Prof. Kehinde has received research and travel grants from notable organizations within and outside Nigeria which include Tertiary Education Trust fund (TETFund), Idachaba Foundation for Research and Scholarship (IFRES) and African Forestry Research Network (AFORNET).
He has also attended several workshops in his academic and other professional areas. Of special notes are workshops on Quality Assurance issues and Open and distance learning education, and strategic plan development, which he is passionate about. He has published widely in reputable local and international journals.
Prof. Kehinde has served in different capacities of administration in Osun State University as follows:
Provost, Postgraduate College (August 2021 – Till Date);
Chairman, Committee of Provost Deans and Directors (August, 2019 – July, 2021);
Provost, College of Agriculture (August, 2019 – July, 2021);
Acting Dean, Faculty of Agriculture (August, 2019 – July, 2020);
Member University Governing Council (June 2017 – September, 2019);
Director, Quality Assurance (August 2017 – July, 2019);
Acting Director, Quality Assurance (August 2015 – July 2017);
Acting Director, Centre for Pre-Degree Studies (August, 2013 – July, 2015);
Acting Head of Department, Agricultural Economics and Extension (2010/2011, 2011/2012, 2012/2013 and 2014/2015 Sessions);
Member of Senate, Osun State University (August 2017 – Till Date);
Member representing Senate on University Research Committee;
Member representing Senate, on Council Committee of Award of Honorary Degrees;
Coordinator, GNS301, Entrepreneurship skills and Practices (2010 – 2013).
Some of his academic professional engagements within and outside the University include serving as external examiners for M.Sc. and Ph.D. examinations at the Bowen University, Federal University of Technology, Akure and University, of Ilorin. He has also served as consultant on the promotion to Associate Professorship position for four (4) candidates at the Joseph Ayo Babalola University, Ara keji, Osun State and assessor for a candidate to the rank of a professor. He was formerly Managing Editor and Editor-in - Chief UNIOSUN Journal of Agriculture and Renewable Resources at different times, former Desk Editor (Agriculture) of Uniosun Journal of Sciences and currently serving as the co-chairman of the National Universities Commission core curriculum review group for Agriculture discipline. He is a member of Nigeria Association of Agricultural Economists (NAAE), Africa Association of Agricultural Economists (AAAE) and the International Association of Agricultural Economists (IAAE), among others.
Prof Kehinde is deeply involved in training farmers in Osun State in farm management, group dynamics and agricultural produce marketing as part of its his contribution to community development. He is the incumbent National President of Abadina College Old Students' Association, Nigeria. He is happily married with children.